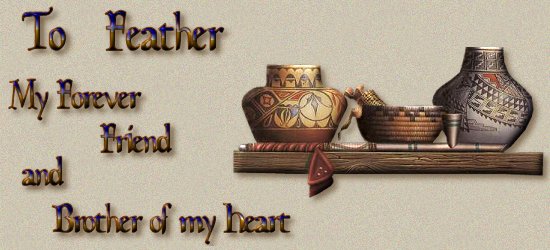 The very first time that we "met",
I knew you were going to be somone special to me.
Over the years, you have cheered me when I was down,
encouraged me when I felt like giving up,
gathered sunshine to brighten my days
and become my forever friend.......
like only a true brother of the heart can be.

These pages are made for you with love
and gratitude for all the ways you have blessed my life.

Thank you, my heart brother Feather...I love you.





"Out of the Indian approach to life there came a great freedom,
an intense and absorbing respect for life,
enriching faith in a Supreme Power and principles of truth,
honesty, generosity, equity, and brotherhood
as a guide to mundane relations."

Luther Standing Bear....Oglala Sioux
1868-1937